Tech spec
How much oxygen does it produce?

1 to 6
Pulse Flow Settings
0.5 to 2
LPM Continuous Flow
The SimplyGo produces oxygen with a concentration of 90% -3% /+ 6%. Mode and flow settings is easily adjusted via the control panel.

How much does it weigh?
The weight includes battery inserted. The SimplyGo does come supplied with a pull cart with telescopic handle for easy transportation.

How long does the battery last?
Setting 1
0.5 LPM
Battery recharge time: 2hrs or 5hrs. Battery run-times are approximate and is dependent on breathing rate.

How noisy is it?
43db(A)
at Setting 2

The SimplyGo maybe noticeable in a quiet environment.
Use this device anywhere around the world. Comes with 12v DC power supply for use in a car.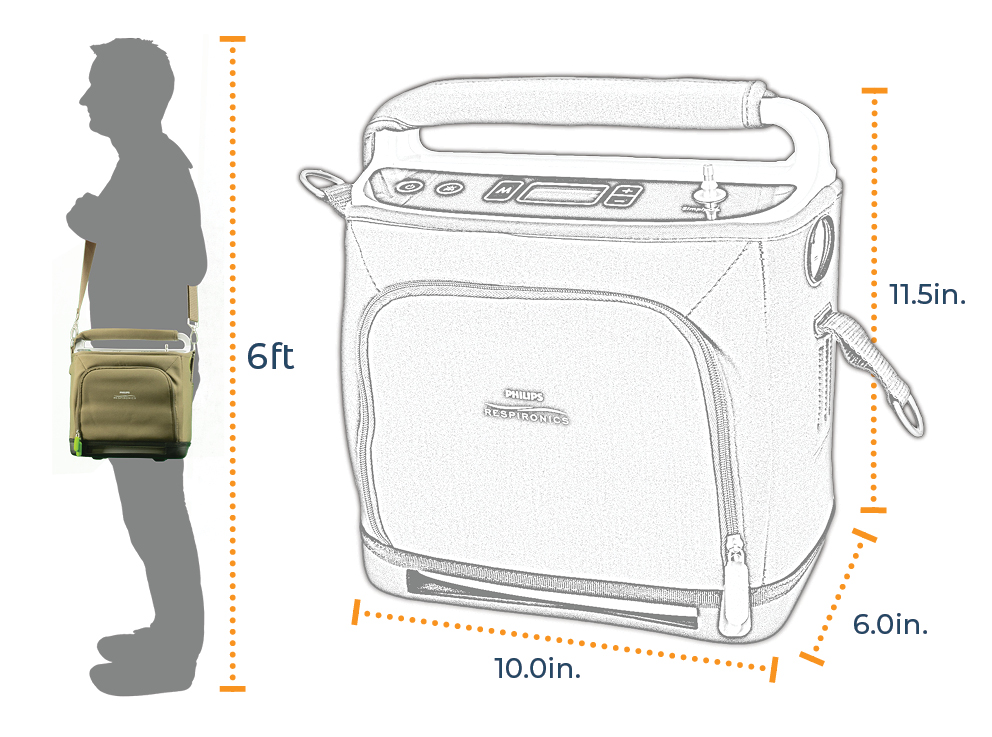 HEIGHT

11.5in.

29.2cm
WIDTH

10.0in.

25.4cm
DEPTH

6.0in.

15.2cm
Key Features
Our Smallest and lightest solution for Continuous flow oxygen
Suitable for your lifestyle to ensure that you have an all in one transportable oxygen solution to suit your requirements
Easily Transportable
The SimplyGo comes complete with a trendy carry and accessory bag to keep all power cables and other accessories neatly together. A large wheel cart is also included for easy transportation
Easy to use interface
The backlit LCD display shows the current setting, mode and remaining battery life in hours and minutes. The mode and flow settings can be setting can easily be changed by pressing the plus and minus buttons
In-Car Charging for longer operation time
Whilst travelling, the SimplyGo can be powered and charged using the provided in-car charger. Take full advantage of a fully charged battery from the moment you step outside the car
Easy humidifier attachment for continuous flow (optional)
This optional accessory is perfect for keeping oxygen moist and prevent the nasal cavities from becoming dry. This is most ideal for sleeping whilst the concentrator is set to continuous flow mode.
Extend the operation time with the liberty kit accessory (optional)
The optional external battery module accessory allows for an extra battery to be connected to the SimplyGo to extend overall operation time. It can be stored in the front pouch of the carry bag.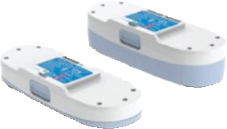 Philips Respironics SimplyGo Portable Oxygen Concentrator
IN STOCK
£2,145.00

£2,899.00
SimplyGo Unit

SimplyGo Bag & Strap

Rechargeable Battery

Cart with telescopic handle

AC Power Supply

DC Power Supply

User Manual

Nasal Cannula

Accessory Bag

Buy this item
VAT free online
If you reside in the UK or EU and suffer from a chronic illness and/or registered disabled, you may qualify for VAT Exemption. VAT is removed upon completion of the VAT exemption declaration at checkout. For more information Click here or download our VAT exemption form here