Overview
Standing at just 49cm tall, the Eclipse 5™ is one of the most technologically advanced oxygen concentrator systems in the world today.
The on-board control panel is feature rich, yet easy to use offering both continuous flow and pulse dosing options, great for use during the day and whilst sleeping at night.
The Eclipse 5™ comes with a "fine-tuning option" tailoring the speed of which oxygen is delivered on pulse dose in accordance to the patient's respiratory requirements. Coupled with this is the Eclipse's autoSAT® technology; a pulse delivery system which maintains a consistent pulse dose volume for every breath as the patient's respiratory rate changes.
With the option to toggle between pulse flow and continuous flow, patients who suffer from sleep apnoea will certainly benefit from this all-in-one solution.
With its robust design and an array of optional accessories available, the Eclipse 5™ is the ideal travel companion for users preferring an all-round solution.
Tech spec
How much oxygen does it produce?
1 to 9
Pulse Flow Settings
0.5 to 3
LPM Continuous Flow
The Eclipse 5 produces oxygen with a concentration of 90% -3% /+ 5.5%. Mode and flow settings is easily adjusted via the control panel.

How much does it weigh?
The weight is based on with the power cartridge inserted. Supplied with a large wheel cart with telescopic handle for easy transportation.

How long does the battery last?
Setting 1
0.5 LPM
Battery recharge time: 2-5 hours Battery run-times are approximate and is dependent on breathing rate.

How noisy is it?
40db(A)
at Setting 3

Quiet operation. As a guide, the Eclipse 5 should be barely noticeable in a quiet restaurant when placed beside you on the ground.
Use this device anywhere around the world. Comes with DC power supply for use in a car.
HEIGHT

19.3in.

49.0cm
WIDTH

12.3in.

31.2cm
DEPTH

7.1in.

18.0cm
3 Year Warranty
Warranty covers parts & labour for 3 years. Batteries & accessories 1 year
Airline Approved
This device is approved for Air travel subject to the carrier's terms & conditions
Compatible with a ventilator device
Whilst this device may be suitable for use during sleep on pulse flow mode, it can also be used in conjunction with a CPAP or BiPAP device on continuous flow mode.
Key Features

Our most advanced Oxygen Concentrator
Easy to use control panel with LCD display showing battery remaining and the current setting. Settings can be changed easily between pulse and continuous modes as well changing the flow by using the plus and minus buttons. The pulse flow delivery on the Eclipse 5 can also be fine-tuned to provide a slower or faster pace of delivery in conjunction with the individual's respiratory needs.

Long life battery
The battery for Eclipse 5™ slots neatly into the base of the machine. The battery can last up to nearly 5 1/2 hours on a single charge. The battery can be re-charged whilst inserted in the machine or independently using the optional desktop charger.

Optional protective cover
Protect the Eclipse 5 from cosmetic damage and rain with this handy accessory.

Optional humidifier kit
This optional accessory is perfect for keeping oxygen moist and prevent the nasal cavities from becoming dry. This is most ideal for sleeping whilst the concentrator is set to continuous flow mode.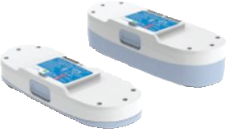 Eclipse 5 Portable Oxygen Concentrator
IN STOCK
£2,290.00

£2,599.00
Eclipse 5

Eclipse 5 Trolley

AC Power Supply

DC Power Supply

Rechargeable power cartridge

User Manual

Nasal Cannula

Buy this item
VAT free online
If you reside in the UK or EU and suffer from a chronic illness and/or registered disabled, you may qualify for VAT Exemption. VAT is removed upon completion of the VAT exemption declaration at checkout. For more information Click here or download our VAT exemption form here