Overview
The user-friendly colour touchscreen allows for easy operation from the fingertip as well as displaying current setting and remaining battery life. SimplyGo Mini is user maintenance-free with no filters to clean or replace. Accessory bag provided as standard to keep all power cables together.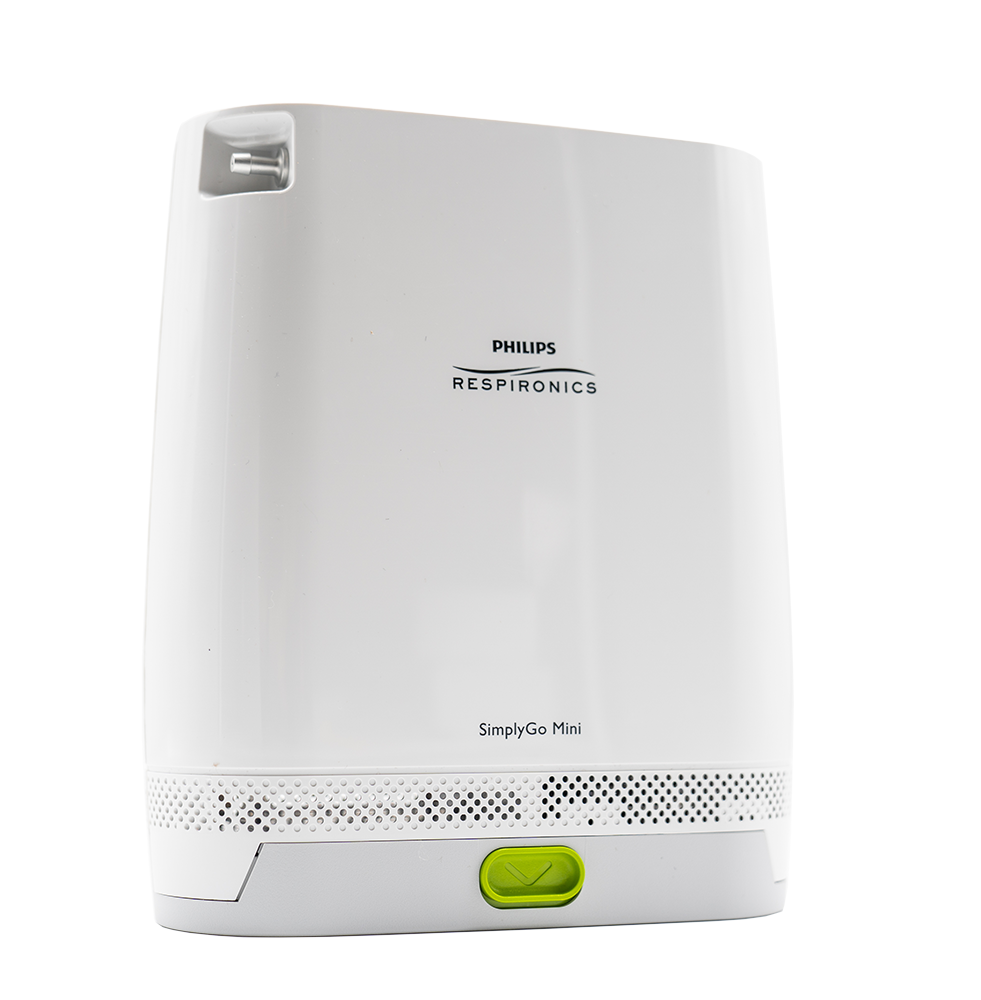 Tech spec
How much oxygen does it produce?
1 to 5
Pulse Flow Settings
The SimplyGo produces oxygen with a concentration of 90% -3% /+ 6%. It has 5 pulse flow settings available

How much does it weigh?
With standard battery
5.0lb
2.3kgs
With extended battery
6.0lb
2.7kgs
The SimplyGo mini is lightweight and easily worn over the shoulder with the provided carry bag and shoulder strap. An optional backpack accessory is available to purchase separately for even greater comfort.

How long does the battery last?
Setting 1
Battery recharge time: 4hrs or 8hrs. *Battery run-times have been collated from various sources and are not officially published by the manufacturer. These run-times should be used as an approximate guide only. Run-time dependent on breathing rate.

How noisy is it?
42db(A)
at Setting 2

Quiet operation. As a guide, the Simplygo mini should be barely noticeable in a quiet restaurant when placed beside you on the ground.
Use this device anywhere around the world. Comes with 12v DC power supply for use in a car.
HEIGHT

9.4in.

23.9cm
WIDTH

8.3in.

21.1cm
DEPTH

3.6in.

9.1cm
3 Year Warranty
Warranty covers parts & labour for 3 years. 1 year on sieve beds & 90 days on batteries & accessories
Airline Approved
This device is approved for Air travel subject to the carrier's terms & conditions
Not compatible with a ventilator device
Whilst this device may be suitable for use during sleep, it cannot be used in conjunction with a CPAP or BiPAP device.
Key Features

Stylish, non-medical look.
The SimplyGo mini has been designed to be inconspicuous and blend in with everyday living. It is one of the most stylish in our entire range of portable oxygen concentrators with its slick design and trendy carry bag. An accessory pouch is also provided to keep all power cables and other accessories neatly together.

Choose between standard or extended battery
Users can opt to buy the SimplyGo mini with either a standard or an extended battery. The extended battery provides double the operation time than the standard battery but does add a further 1lb to the overall carrying weight of the machine. Batteries are easily interchangeable should users opt to purchase more than one battery.

Easy to use touchscreen control
The highly intuitive touchscreen interface is easy to operate with icons that are simple to understand.
In-Car Charging for longer operation time
Whilst travelling, the SimplyGo mini can be powered and charged using the provided in-car charger. Take full advantage of a fully charged battery from the moment you step outside the vehicle.
Desktop battery charging (Sold separately)
Charge any additional batteries separately from the machine with this handy desktop charger. Extra batteries are perfect for travelling, especially for air travel. The desktop charger allows you to continue using the SimplyGo mini with one battery, whilst another is charging so the user can remain "on the go".
Even greater comfort with a back pack (Sold separately)
Make wearing the SimplyGo mini more comfortable with this trendy backpack accessory. Perfect for when the user intends to be mobile for extended periods of time.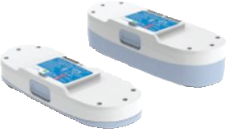 Philips Respironics SimplyGo Mini Portable Oxygen Concentrator with Standard Battery
IN STOCK
£1,750.00

£2,899.00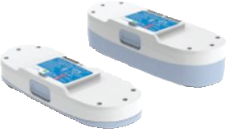 Philips Respironics SimplyGo Mini Portable Oxygen Concentrator With Extended Battery
IN STOCK
£1,850.00

£2,999.00
SimplyGo Mini Unit

SimplyGo Bag & Strap

AC Power Supply

DC Power Supply

User Manual

Accessory Bag

Nasal Cannula

Buy this item
VAT free online
If you reside in the UK or EU and suffer from a chronic illness and/or registered disabled, you may qualify for VAT Exemption. VAT is removed upon completion of the VAT exemption declaration at checkout. For more information Click here or download our VAT exemption form here