Overview
Weighing from as little as 2.8lbs (1.27kg), the INOGENONE® G4 really does "punch above it's weight" with an incredibly compact, sleek, and stylish design. It is the smallest and lightest portable oxygen concentrator in our range offering 3 pulse flow settings.
The G4 is very quiet and unobtrusive producing noise that is less than a normal indoor conversation. It is simple to operate. The user interface features a white back-lit LCD display that clearly shows the current pulse flow setting as well as the remaining battery life.
When using the G4, it's intelligent oxygen delivery system works in accordance to the user's respiration rate by automatically adjusting how short or long each burst of oxygen is delivered. During the periods of high exertion, the oxygen is delivered in shorter bursts. Whilst sleeping or during periods when respiration is at a lower rate, the G4 will give longer bursts. This clever system will ensure the user maintains the correct dosage of oxygen as prescribed. It comes complete with both mains and car power supply units.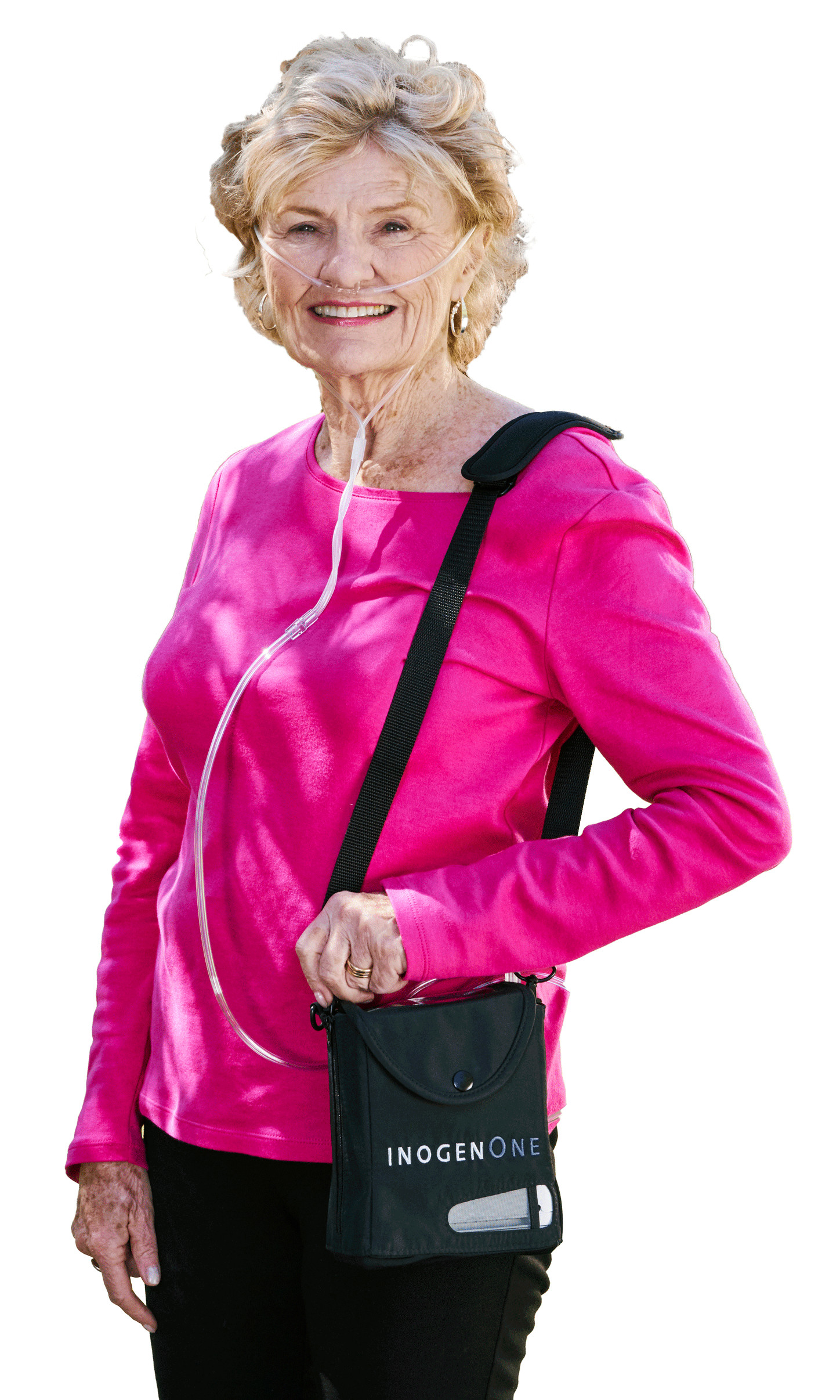 Tech spec
How much oxygen does it produce?
1 to 3
Pulse Flow Settings
The INOGENONE® G4 produces oxygen with a concentration of 90% -3% /+ 6%. It has 3 pulse flow settings available which may be suitable for oxygen users prescribed up to 3 litres per minute.

How much does it weigh?
With 4 cell battery
2.8lbs
1.27kgs
With 8 cell battery
3.3lbs
1.49kgs
It is ultra-lightweight and easily worn over the shoulder with the provided carry bag and shoulder strap. An optional backpack accessory is available to purchase separately for even greater comfort whilst mobile.

How long does the battery last?
Setting 1
Battery recharge time: 3 ¼ hrs or 6hrs. Battery run-times are approximate and is dependent on breathing rate.

How noisy is it?
40db
at Setting 2

Quiet operation. As a guide, the G4 should be barely noticeable in a quiet restaurant when placed beside you on the ground.
Use this device anywhere around the world. Comes with DC power supply for use in a vehicle.
HEIGHT

7.2in.

18.2cm
WIDTH

5.9in.

15.0cm
DEPTH

2.7in.

6.8cm
3 Year Warranty
Warranty covers parts & labour for 3 years. Batteries & accessories 1 year
Airline Approved
This device is approved for Air travel subject to the carrier's terms & conditions
Not compatible with a ventilator device
Whilst this device may be suitable for use during sleep, it cannot be used in conjunction with a CPAP or BiPAP device.
Key Features

Ultra-lightweight & Portable
Whether it's for everyday use or just for getting out the house or on holiday, the G4 offers portability like no other. This ultra-compact lightweight solution really does facilitate living life without boundaries allowing to carry on with the everyday things. With airline approval, it is the perfect travel companion for those wishing to holiday abroad.

Available with a 4 cell or 8 cell battery
Users can opt to purchase the INOGENONE® G4 with either a 4 or an 8 cell battery. The INOGENONE® G4 with the 8 cell battery installed offers the best battery life with up to 5 hours operation time. Versus the 4 cell battery, the 8 cell battery does add approximately ½ lb to the overall carrying weight which is a small compromise in order to remain mobile for longer.

User friendly control
The LCD display shows the current setting and remaining battery life in hours and minutes. The setting can easily be changed by pressing the plus and minus buttons.
In-Car Charging for longer operation time
Whilst travelling, the G4 can be powered and charged using the in-car charger. Take full advantage of a fully charged battery from the moment you step outside the vehicle.
External Battery Charger (optional)
Additional batteries can be purchased and be charged independently from the machine using the external battery charger (available separately)
Even greater independence with a backpack (optional)
Spread the weight and make it even easier to be mobile with this optional accessory.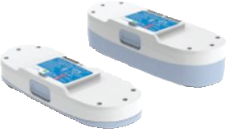 INOGENONE® G4 Ultra Portable Oxygen Concentrator With 4 Cell Battery
IN STOCK
£2,195.00

£2,499.00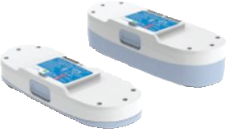 INOGENONE® G4 Ultra Portable Oxygen Concentrator With 8 Cell Battery
IN STOCK
£2,295.00

£2,599.00
INOGENONE G4 Unit

INOGENONE G4 Bag & Strap

AC Power Supply

DC Power Supply

User Manual

Nasal Cannula

Buy this item
VAT free online
If you reside in the UK or EU and suffer from a chronic illness and/or registered disabled, you may qualify for VAT Exemption. VAT is removed upon completion of the VAT exemption declaration at checkout. For more information Click here or download our VAT exemption form here