Overview
The user-friendly colour touchscreen allows for easy operation from the fingertip as well as displaying current setting and remaining battery life. SimplyGo Mini is user maintenance-free with no filters to clean or replace. Accessory bag provided as standard to keep all power cables together.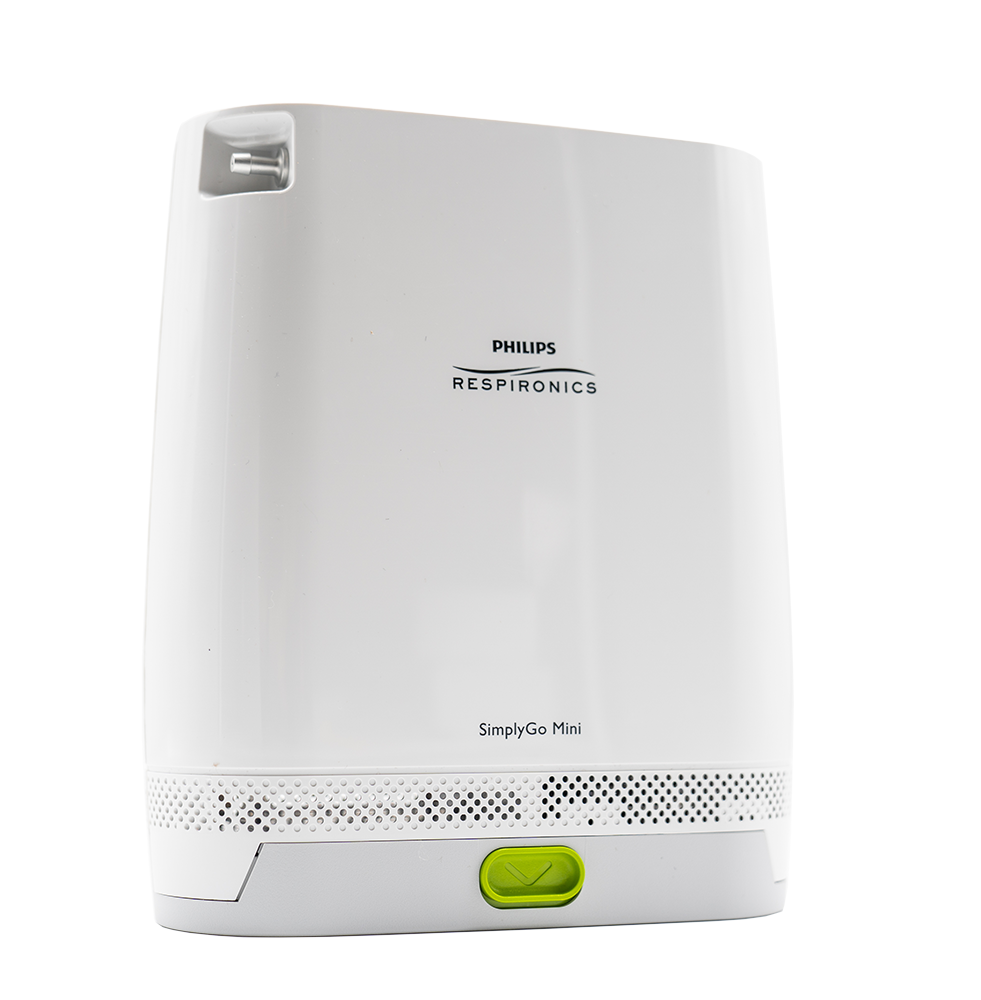 Tech spec
How much oxygen does it produce?
1 to 5
Pulse Flow Settings
The SimplyGo produces oxygen with a concentration of 90% -3% /+ 6%. It has 5 pulse flow settings available

How much does it weigh?
With standard battery
5.0lb
2.3kgs
With extended battery
6.0lb
2.7kgs
The SimplyGo mini is lightweight and easily worn over the shoulder with the provided carry bag and shoulder strap. An optional backpack accessory is available to purchase separately for even greater comfort.

How long does the battery last?
Setting 1
Battery recharge time: 4hrs or 8hrs. *Battery run-times have been collated from various sources and are not officially published by the manufacturer. These run-times should be used as an approximate guide only. Run-time dependent on breathing rate.

How noisy is it?
42db(A)
at Setting 2
Quiet operation. As a guide, the Simplygo mini should be barely noticeable in a quiet restaurant when placed beside you on the ground.
Use this device anywhere around the world. Comes with 12v DC power supply for use in a car.
HEIGHT

9.4in.

23.9cm
WIDTH

8.3in.

21.1cm
DEPTH

3.6in.

9.1cm
Philips Respironics SimplyGo Mini Portable Oxygen Concentrator with Standard Battery
IN STOCK
£1,999.00

£2,899.00
Philips Respironics SimplyGo Mini Portable Oxygen Concentrator With Extended Battery
IN STOCK
£2,099.00

£2,999.00
SimplyGo Mini Unit

SimplyGo Bag & Strap

AC Power Supply

DC Power Supply

User Manual

Accessory Bag

Nasal Cannula

Buy this item
VAT free online
If you reside in the UK or EU and suffer from a chronic illness and/or registered disabled, you may qualify for VAT Exemption. VAT is removed upon completion of the VAT exemption declaration at checkout. For more information Click here or download our VAT exemption form here