Intermedical homecare are excited to introduce the brand new INOGENONE G5 portable oxygen concentrator in the UK. This brand new addition to our range takes portable oxygen therapy to a whole new level.
Weighing just 4.7lbs, the INOGENONE G5 is our 2nd most compact POC in our range. In addition, it offers an incredible 6 pulse flow settings – the only truly portable device in our range (and the world) to offer such a capacity. making portable oxygen therapy more accessible even for those who have higher demands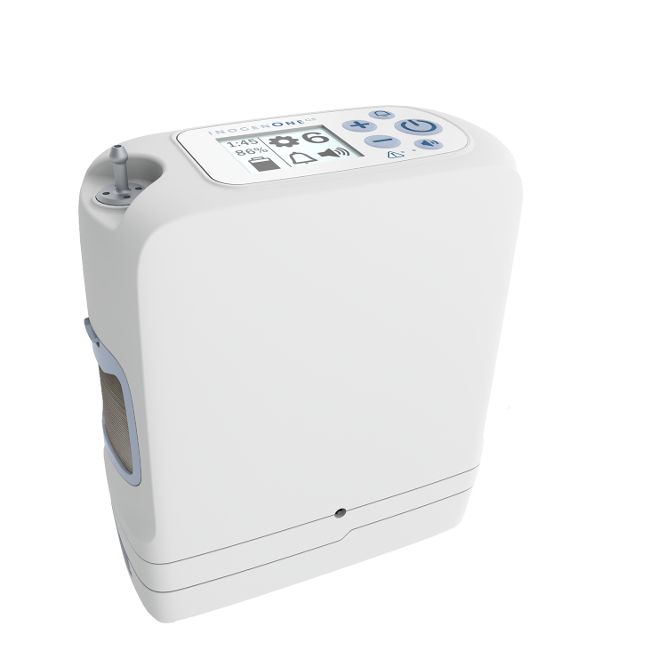 INOGEN have done it again! This time they have really set the bar high with this incredible new feat of medical engineering. The G5 portable oxygen concentrator is expected to land towards the end of 2019 and no doubt will be a highly sought after device.
Offering 6 pulse flow settings and weighing just 4.7lbs, the INOGENONE G5 makes it all possible – Making portable oxygen therapy more accessible for an even wider range of oxygen users – even for those who require a more demanding level of oxygen whilst on the go.
The design closely resembles that of the smaller G4 model standing approximately 8 inches in height and 7 inches in width, and comes with a single (up to 6.5 hours runtime) or double battery (up to 13 hours).
To learn more, why not register your interest by contacting us here or call 0845 862 9500